Blessed with a mesmerizing Himalayan beauty, Manali is naturally gifted with snow-capped mountains, thick alpine forests and fruit orchards. The place offers a rendezvous with exciting trekking trails through most parts of the year. Several strategically known treks originate from this area. Here are some of the famous treks in Manali.
It is one of the most famous and prettiest treks in Manali. It is located at 14,000 ft. above the sea level, around meandering grasslands where Maharishi Bhrigu sat in deep meditation. The entire trek trail is lined with grassy meadows, and you can see the Dhauladhar and the Pir Panjal mountains in the distance. The trail starts from Gulaba and moves through Rola Kholi with increasing scenic beauty as you go higher. You can cover the entire trek of 22 km in 4 days.
Season: Spring-summer
Duration: 4 days
Level: Easy to moderate
Hampta Pass is an area of dramatic changes in natural scenery from the forests and meadows in the valley to the fjord-like Balu Ka Gera and the desert oasis of Shea Goru in Ladakh. From the Hampta Pass, you can see the Lahaul valley in Ladakh in one panoramic view. It starts from the base camp at Jobra, which you can reach from Manali via a road drive consisting of 42 hairpin bends! You can trek through the campsites at Jobra, Jwara, and Shea Goru, and finally Hampta Pass. You can also visit the beautiful Chandrataal. The entire trail is about 20 km, and you can cover it in 5-6 days.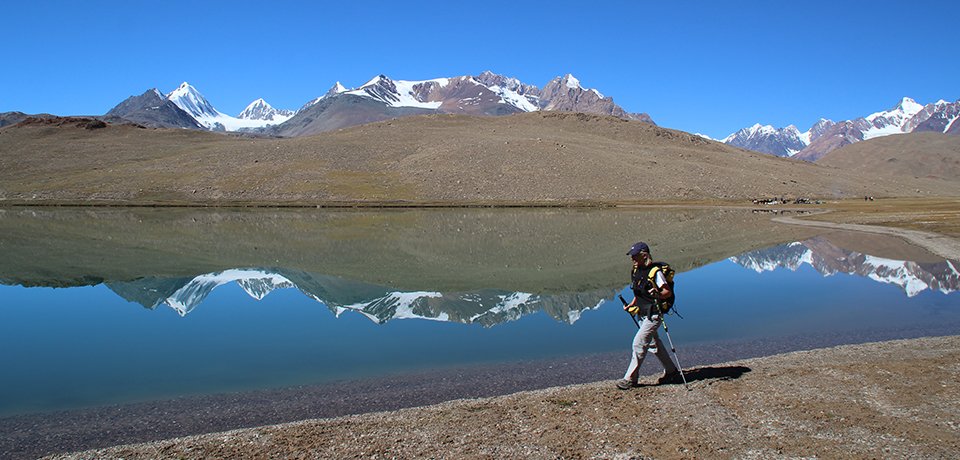 Season: June to September
Duration: 6 days
Level: Moderate
The Markha Valley Trek is all set in the cold desert regions of Ladakh. Markha is a picturesque river valley in Hemis National Park. The trek follows a trail through many waist-deep river crossings and dry, rocky canyons with mountain wildlife and Tibetan style mud houses. Your trek starts from Chilling through Skiu and Markha, Hankar, Nimaling, Chokdo, and finally, Leh. You get to see and cross over the 17,060 ft high Kongmaru La Pass as well. You can also have a stunning view of Mt Kang Yatse (21,300 ft).
Season: June to September
Duration: 6 days
Level: Moderate to Difficult
Trekking in India in the Himalayan regions around Manali, are Beas Kund, Malana-Chanderkhani Pass, Patalsu Peak, Pin Parvati Pass, Bhubu Pass, Deo Tibba Base Trek, and Chandratal Lake Trek.

Camping in Manali is an adventurous experience of an escapade from the humdrum of life. The months from May to June happens to be the best time to visit Manali for camping as you get to see the most stunning sunrises along with a magical snowfall. Beas River, Solang Valley, and Kothi are the top 3 camping sites around Manali where you can get a soul-stirring camping experience.
This is the best site for riverside camping along the majestic Beas River. Trekking clubbed with overnight camping and bonfire, and a quick mountain stroll will provide valuable memories.
Located 13 km from Manali, the Solang Valley offers a majestic view of the glaciers and snow-capped mountains. You can also enjoy thrilling adventure activities like Parachuting, skiing, paragliding, and horse riding.
Located 15 km from Manali at the foothills of Rohtang pass, Kothi is a beautiful village and the perfect camping destination for nature lovers.
2020 has started off with a quite a sombre note. While the world is waiting to recover, many are making plans for the rest of the year. One of the best ways to end the remainder of the year is to head off to a trek. Above are the numbers of popular trekking destinations in India that are popular and attract many tourists. Contact us for our pick of the best trekking destinations for the year 2020-2021