On a monsoon evening, I was standing in a huge crowd in Haridwar on the bank of the river Ganges. Thrumming rain was not a snag for devotees who gathered to watch conventional ritual in the evening on the bank of the river Ganges. The ceremony went on by performing various customs. I was amazed at the announcement asking for the crowd to take an oath not to pollute mother Ganga. Dance of lights started immediately after the oath-taking ceremony along with a melodious prayer by praying the river Ganga. After the experience, I curiously continued the journey of attending sacred Ganga Arti offerings in different tirthas in Rishikesh.
Ganga Arti in Rishikesh
Before watching such a dazzling ceremony, one should perceive the spiritual and cultural significance of rivers in Hindu philosophy. Mythology describes the essence of each river and named it based on its intrinsic nature. Ganga is the personification for the goddess of salvation. Mythos presents beautiful stories to symbolize such an epitome. Whether these stories are great epics or pure literature/folk is not worthy of debate. But the aphorism and solution they dispense with great memorandum make it predominant till today.
Ganga Arti is a devotional offering to the river goddess, performed every day in Haridwar, Rishikesh, and Varanasi. Arti in general performed to show respect, being thankful and blissful and hence to remove the pain. According to Vedas, there are 5 basic elements in nature. They are called "Pancha Mahabhuta" :
Earth (Bhumi),
Water (Jala),
Fire (Agni),
Air(Vaayu)
Space (Aakaash)
No doubt! the melody of flowing water, fresh cool breeze, enchanting music in an evening with flame (light) enhances one's mood and hence personality and quality of life. Vedic civilization introduced and adopted such practice as a routine to be performed on the bank of the river to intensify the spiritual journey of a whole civilization.
Places to watch Ganga Arti in Rishikesh on the bank of the river Ganges
Paramarth Niketan Ashram
Situated near Ram Jhula on the bank of river Ganga, ashram commences the ritual from 6 pm every day. A unique aspect of the ceremony is children who are learning Vedas, performs the early ritual by chanting mantras offering to the fire. Few students play instruments and sing a devotional song while performing Arti. Visitors involved in waving lighted wicks. After the Arti devotees lit diya's along with flowers in leaf bowls, and release in the Ganga water to fulfill the wishes.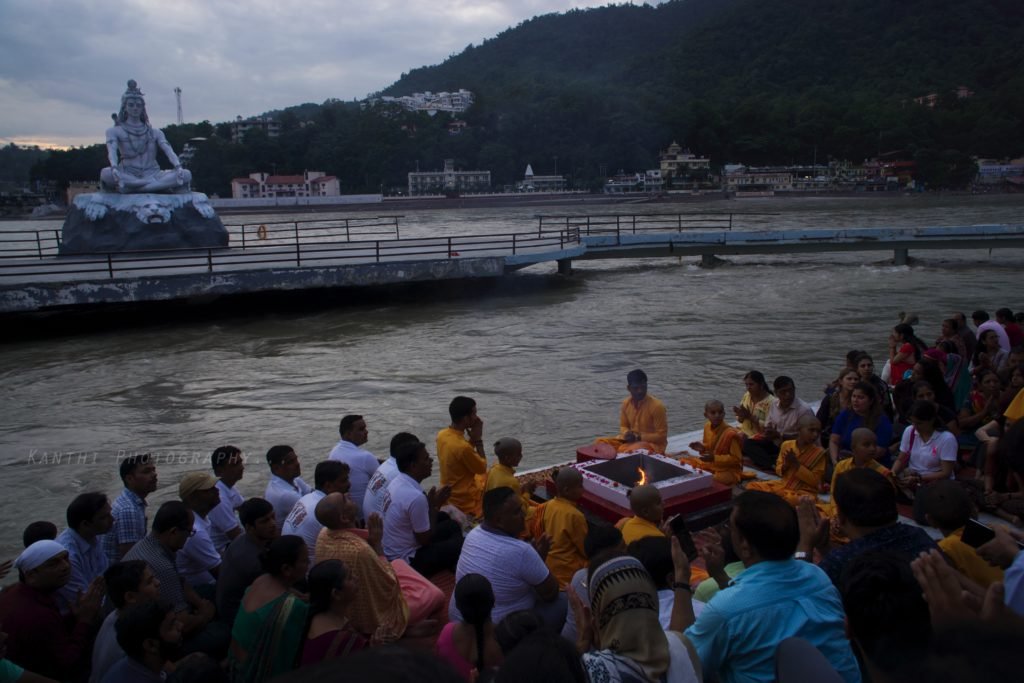 Triveni Ghat
Situated in the heart of Rishikesh market, this is one of the popular and biggest ghats in Rishikesh. Before the Arti, I could see men and women gathered to offer Diya with flowers to Ganga. Aarti commences at 6 pm and performed by priests. Almost 20 priests come together to perform Arti makes the ghat illuminating with flames on the bank of the smokey river. Even visitors get a chance to wave flamed wicks along with priests. Which creates a beautiful view just after the sunset. I could see people traveled from different parts of the world to witness the show. Few were even shedding tears with devotion and happiness.
Shatrughna Ghat
Situated near Ram Jhula with a lush green hilly background, Arti performed in Varanasi style. However, the one I attended was special on the occasion of Krishna Janmashtami.
Ritual started around 6 pm with worshiping river Ganga. Then they went on with different prayers. The 5 steps Arti took place rigorously.
5 priests performed:
Dheep Aarti: Offered light to the river
Dhoop Aarti: Offered fragrance to the river
Dhuna Aarti: Offered flowers to the river
Nag Aarti: With Shiv Tandav prayer
Jal Aarti: Praying Ganga by offering light
After the ceremony, many visitors on the crowd went ahead and offered flowers to the river.
Trayambakeshwar temple, Tapovan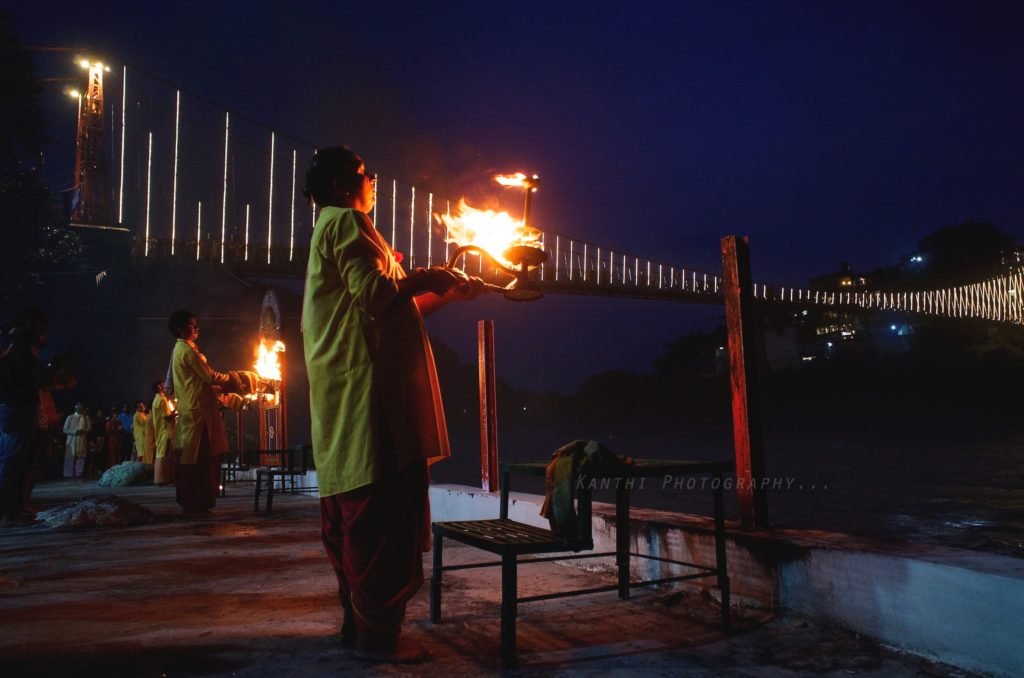 Located next to Laxman Jhula, this 13 story temple is famous tourist destinations. Ritual started with performing Hawan with a visitor. Evening sky turned pink and Laxman Jhula Glew with colorful light. Smokey Ganga as usual burbling and flowing fast. The ceremony commenced at 6 pm, performed by priests. Not much crowded for Gangarati, unlike other places. One can watch the ritual blissfully and closely.
You can refer my article easy and cheap travel to Rishikesh to plan an easy and cheap trip to Rishikesh. If you are looking for yoga or meditation courses or teacher's training contact RealHappiness. A reputed teacher from the RealHappiness organization conducts free meditation training through WebEx.